Every Sunday, our family gathers at our house for breakfast. The main purpose is NOT to spend hours preparing food or slaving in the kitchen. Instead, we want to make sure that my daughters grow up knowing their grandparents and aunts and uncles and breakfast is a wonderful opportunity to give us a weekly check-in and make sure we stay involved and up to date in everyone's lives. I grew up on Germany, and I remember my parents sending us to the bakery to pick up rolls for Saturday morning breakfast. Those rolls were so delicious! Whether smothered with jam, layered with slices of cheese, or topped with butter and slices of a hard-boiled egg, it was a treat! Now with the recipe below, I can make my own Brötchen whenever the craving strikes.
I've been baking easy, hearty breads for years, but it's taken me until now to find a recipe for rolls that brings me back to my childhood AND that doesn't require advanced planning, fancy ingredients, or techniques. I can make these rolls in about an hour, including baking time so they are warm out of the oven when the family arrives. Give this recipe a try and you won't regret it.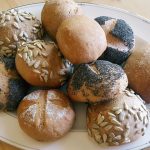 Print Recipe
Brötchen ~ German Rolls
Delicious, easy and quick! These rolls are a new favorite at our house and can also be formed to make baguettes. There is no long rest period and you can have fresh rolls within an hour of developing a craving 🙂
Ingredients
600

ml

water

room temperature

1-2

tbsp

dry yeast

1

tbsp

sugar

or honey

1

tbsp

salt

2

tsp

vinegar

apple, balsamic, etc.

1000

g

plain flour

or bread flour

1

tbsp

poppy seeds

optional

2

tbsp

sesame seeds

optional

2

tbsp

milk

optional
Instructions
Pour the water into a large bowl.

Add yeast, sugar, salt, and vinegar to the water.

Add flour to the bowl and combine. You can use a spoon (or fork) to combine the ingredients, then use your hands to knead until a smooth elastic dough. Return the dough to the bowl and cover with a cloth. Let the dough rest about 30 minutes.

After the rest, knead the dough again and form your rolls. The dough should be enough for about 20-24 fist-sized rolls.

Once a roll is formed, brush it with milk and place on baking sheet. If desired, roll the formed roll in poppy seeds or sesame seeds prior to placing on the baking sheet.

Preheat your oven to 425 F and let the tray of rolls rest until the oven is up to temperature. Then bake for 20-25 minutes, until the rolls are golden brown.
Notes
I have used spelt, whole wheat, and rye flour to replace up to 50% of the flour. The rolls will be a bit denser, but still delicious.