I LOVE bread (and potatoes) but especially bread. But I don't love the price I have to pay for a good, hearty, whole grain bread. I grew up in Germany eating bread made in the local bakery. And there is nothing quite like it to be found here in my new home in California. At least, not at my local stores. However, I stumbled across a fantastic recipe about ten years ago. Since then, I've been playing with the recipe and now have my standard version that I bake one or two times a week, frequently 2 loaves at a time. I've tried to find the original post that served as the basis for my recipe, but while there are many versions of this bread to be found on the internet, none are that first one that inspired me to make delicious German bread at home.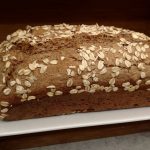 Print Recipe
Whole Grain German Bread
A quick and hearty bread, with simple ingredients
Ingredients
500

ml

water, luke warm

1

tbsp

dry yeast

20

tsp

salt

2

tsp

balsamic vinegar

500

g

Flour

I like to include up to 20% rye flour, as well as some spelt and whole wheat flours

1-2

tbsp

rolled oats

optional

200

g

sunflower seeds

optional
Instructions
Do NOT preheat the oven. The bread is placed into the cold oven.

Combine the yeast with the warm water and stir. Then set aside until you have mixed up the dry ingredients.

Line a loaf tin with baking paper and sprinkle some oats into the bottom.

Then combine the rest of the ingredients (flours, salt, vinegar and seeds) in a mixing bowl. If you are mixing by hand, I prefer a wide and shallow bowl. If you use a hand-mixer, a tall bowl is easier to use and make sure the dough stays in the bowl. I have also successfully used a stand-mixer for this recipe, but it is not required.

Add the water-yeast mixture into the flour mixture and stir until well combined. The dough will be rather sticky and wet. Carefully transfer the mixture into your prepared loaf tin.

Sprinkle the rest of the oats on top of the loaf and immediately put it in the oven. Then set the oven to 425℉. After 55 minutes, take the bread out of the oven.

Let it cool for a few minutes, then remove the loaf from the tin and set it on a rack to cool completely.